Make Money Home
Google Adsense
My #1 Tip is SBI!
More Tips & Advice
Recommended
About Us

Create an Online Business?
There is another way! Yes, you can build a REAL business you're proud of, starting today. How?...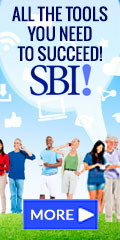 Use SiteSell's SBI!
In SBI! there are no downlines or uplines, just a step-by-step proven guide to building a web site that works. You choose what the website is about. And you determine your success!
Learn more in my
free guide to SBI!
Home > FREE Resources > 101 Supertips
FREE Resources
101 Supertips by Harvey Segal
Harvey Segal has done it again! He's produced a great resource containing loads of tips (101 tips to be precise) that can really help you build, promote and profit more online.

And 101 Supertips is free!

I highly recommend that you download 101 Supertips, read, then do!

About 101 Supertips

Well, to quote from the ebook (I'm so lazy! ;-) ):

"The main sections, and the tips within each section, all follow in a logical sequence. Here is the order of the main sections.
"We start with advice for Newbies and how they can quickly get acquainted with the world of online marketing. (P.S. Even experienced marketers should read this section).
The ideal way for newbies to start earning, even without a website, is to promote Affiliate Programs
Very soon you must have a website so we then discuss Website Design And Content followed by Website Promotion
Now it's time to develop your own product and become a merchant as explained in From Affiliate To Merchant
What product to develop ? The answer is found in Ebook Publishing
The key to success is to exploit niche areas, for which you need Theme Sites (mini sites and content sites)
With these sites you need to follow up on your visitors with a mailing list or a newsletter: see how with Ezine Publishing
By now with a rapidly growing online business you need to address aspects of Security and Recovery
Who can advise you ? Let's ask the Experts
Then some advice about dealing with Companies
By now you're a busy marketer so you need some Productivity Ideas
And Finally we end with some special Super Tips"

Who can believe that this is a free resource?
But his is how Harvey Segal works!
(Admittedly, some products he recommends may well earn him a modest commission. Even then, you can rebrand the ebook yourself, with your own affiliate links.)
You just can't lose.
So, as I said above: download, read, then do Harvey Segal's excellent 101 Supertips
(Hmm, there is one proviso: it's only available to PC users, or MAC users who have PC-emulation software!)
Enjoy,
Steve M Nash
PS Want to know my top tip for succeeding online?
SBI! (Site Buildt It!) is an all-in-one internet business-building software service that allows people from all walks of life, and with all kinds of skills and desires, to succeed online. How? Well, SBI provides you with the tools to build your site (whether complete beginner or web expert) and a long-term site-building philosophy (see how SBI! works here!) that enables you to create successful content-based websites that both the search engines and your site visitors like. All you have to do is provide your Brain, Attitude and Motivation (or BAM, for short). Simple really, and do-able...
Check out my free guide to SBI! here...