Make Money Home
Google Adsense
My #1 Tip is SBI!
More Tips & Advice
Recommended
About Us

Create an Online Business?
There is another way! Yes, you can build a REAL business you're proud of, starting today. How?...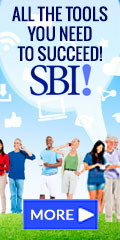 Use SiteSell's SBI!
In SBI! there are no downlines or uplines, just a step-by-step proven guide to building a web site that works. You choose what the website is about. And you determine your success!
Learn more in my
free guide to SBI!
Home > Start Here!
Making Money Online Starts Here!
Learn How Anyone Can Sell Online -
Simply Decide What Type Of Anyone You Are - Read, Then Do!
Yes, it's as easy as that!
Simply know yourself - your strengths and weaknesses; your knowledge, skills and interests; your aims and objectives, and how much time you are willing to spend trying to reach them!
This is easy to say, but difficult to do! But if you want to avoid hours, weeks, even months of frustration, it's vital that you know who you are and what you want to achieve before you begin.
Armed with this information you are, or can become, someone (anyone) that can sell online.
So, What Type Of Anyone Are You?
Are you anyone with NO WEBSITE and NO PRODUCT ?
(Maybe someone with no web design skills, and no desire to gain them?) Actually, we all own something and we can all sell via online auctions!


Are you anyone with a WEBSITE but NO PRODUCT ?
(Maybe someone who does not want the hassle of selling products online?) With affiliate marketing (associate programs) you can let others sell for you!


Are you anyone with a WEBSITE and PRODUCT ?
(Maybe someone with an offline business, and a website to sell them on?) Hey, it's simple then - you just need to learn how to make your site sell!
So, decide who you are and know what skills you possess, and you'll be ready to make money online!
Read more, to make money online with:
Actually, maybe you should really start here (with SBI!)...
Find out more about SBI! here...
Steve M Nash
PS Want to know my top tip for succeeding online?
SBI! (Site Buildt It!) is an all-in-one internet business-building software service that allows people from all walks of life, and with all kinds of skills and desires, to succeed online. How? Well, SBI provides you with the tools to build your site (whether complete beginner or web expert) and a long-term site-building philosophy (see how SBI! works here!) that enables you to create successful content-based websites that both the search engines and your site visitors like. All you have to do is provide your Brain, Attitude and Motivation (or BAM, for short). Simple really, and do-able...
Check out my free guide to SBI! here...