Make Money Home
Google Adsense
My #1 Tip is SBI!
More Tips & Advice
Recommended
About Us

Create an Online Business?
There is another way! Yes, you can build a REAL business you're proud of, starting today. How?...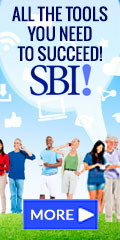 Use SiteSell's SBI!
In SBI! there are no downlines or uplines, just a step-by-step proven guide to building a web site that works. You choose what the website is about. And you determine your success!
Learn more in my
free guide to SBI!
Home > Tips & Advice > Choosing the Right Affiliate Programs
Tips & Advice
Choosing the Right Affiliate Programs

The affiliate programs you choose to participate in, the ones you advertise, can decide whether you meet with success on the 'net or not. For many websites, advertising sales are the only income they generate, so choosing what programs to advertise is crucial to your online success.
So how do you go about choosing the right affiliate programs for your particular site? There are certain criteria you need to evaluate to determine if the program will be successful on your site:
=> Audience
Does this product match the audience of your website? If you are running a site for dog owners to learn about their pets, will your audience be especially interested in buying sports cards? Probably not, at least not most of them.

=> Interest
Interest goes hand-in-hand with audience. The perfect affiliate programs for your website are ones which your audience will be specifically interested in while at your website. Using the dog owners site as an example again, if someone has ended up at your site they'd probably be interested in dog owner-related products and offers while at your site. One would be most likely to be successful offering a dog training manual or pet toys from your site.
=> Type of Offer
There are three basic types of affiliate programs. Ones which pay for each click-through, for leads, or for sales. While the payouts for a sale are generally higher than a lead, and leads higher than for a click-through, a website owner must consider how successful the program might be. If you are required to sell a $29.95 book on your website to earn a commission, you might not be as successful as if you were offering free pet toy samples. The response for the offer would be much greater than that of a product the user must buy before you earn a commission. If your site has substantial traffic, offers paying per click can quickly add up to earn significant amounts if you choose offers that your audience would be interested in clicking through to find out about.

=> Commission
The final item you must consider when choosing the right affiliate programs for your site is the commission, or in other words, the amount you are paid for each click, lead, or sale. While you may be able to generate hundreds of clicks on one program's ads, if they are only paying $0.01 per click you may not earn as much as if you ran a program that pays $2 for a lead, and you would need to generate 200 clicks to earn the same amount. Equally, an affiliate program paying $20 commission on a sale of a $50 product might sound great, but if you can only sell one or two of the product in a month it may not be worthwhile.
Consider those 4 criteria when choosing affiliate programs to add to your website, and you should enjoy more responses and, therefore, more revenue from your website.
---
About the Author:

Over 250 hand-picked resources, articles, and tools available at http://www.websitegoodies.com - Dan also publishes the free weekly "WebDevPortal" newsletter for website owners! Subscribe today and get articles like this every week, plus free gifts.

---
Note from Steve M Nash: If you want to learn about the right UK affiliate program, you could do a lot worse than visit the #1 UK affiliate forum at Affiliates4U


MORE TIPS, ARTICLES & RESOURCES:
PS Want to know my top tip for succeeding online?
SBI! (Site Buildt It!) is an all-in-one internet business-building software service that allows people from all walks of life, and with all kinds of skills and desires, to succeed online. How? Well, SBI provides you with the tools to build your site (whether complete beginner or web expert) and a long-term site-building philosophy (see how SBI! works here!) that enables you to create successful content-based websites that both the search engines and your site visitors like. All you have to do is provide your Brain, Attitude and Motivation (or BAM, for short). Simple really, and do-able...
Check out my free guide to SBI! here...