Make Money Home
Google Adsense
My #1 Tip is SBI!
More Tips & Advice
Recommended
About Us

Create an Online Business?
There is another way! Yes, you can build a REAL business you're proud of, starting today. How?...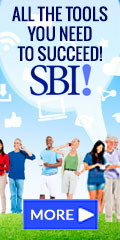 Use SiteSell's SBI!
In SBI! there are no downlines or uplines, just a step-by-step proven guide to building a web site that works. You choose what the website is about. And you determine your success!
Learn more in my
free guide to SBI!
"Free Articles and Tips That Can
Help YOU Make Money Online --
Whoever You Are!"
Simply READ & LEARN how, then DO it!
(Then keep on learning, keep on doing!)
Hello and welcome to my free guide to making money online. My name is Steve M Nash and I, like many others, make a full-time income online (via affiliate marketing and Google Adsense).
There are many, many ways to make money online, however, and AnyoneCanSellOnline.com has been developed to show you popular ways to make money online.
Anyone can sell, online! I truly believe this.
And this site can help.
But you must get involved too - there are no miracle cures, no get-rich-quick schemes here. Instead, you'll find simple, effective, tips and strategies. So if you want to know the answers to questions like these:
"How do I make money online?"


"How do you sell online?",


("Are people really making money online?"...
[Answer: Yes!])
there is one simple answer:
Learn HOW, then then DO it!
Yes, tens of thousands of everyday people like you are successfully making money online, right now, in hundreds of different ways. These everyday-types have one common factor: they ALL learn then do
So what do YOU want to learn about?
Pick one of six online money making articles below:
Where Do I Start Making Money and Where Does It Come From ?
A brief beginners guide to how people make money via the Internet
[ Suitable for Beginners ]


How Do I Start a Home Business ?
This brief guide shows you how!
[ Suitable for Beginners ]


How Do I Build A Website?
A step-by-step guide to building a successful website (part 1)
[ Suitable for ALL ]


What Are The 3 Ways To Build, Promote and Profit More From Any Website?
So you have a website? Here are 3 super-tips to build, promote and profit more from it
[ Suitable for ALL ]


At Least 6 Success Tips For A More Profitable Year, Online
Article is based on my several years experiece of making a living from affiliate marketing. Covers tips about attitude and marketing
[ Suitable for ALL ]

None of the topics above interest you?
Why not explore the AnyoneCanSellOnline.com website and read more tips and articles (see below), or review the resources I recommend (including free resources) - all of which can really help you make money online [ Suitable for ALL ]
Thanks for visiting my free guide to making money online...
Whatever you decide to learn (then do) - thanks for visiting my site
Steve M Nash
PS Want to know how to MAKE MONEY QUICK?
Then I can't help you! And neither can Shelly the tortoise!...
However, If you're willing to learn, and work hard, and do, then my recommendation is simple: let SBI! (Site Build It!) convert YOUR passion into an income. (Actually, Site Build It! can do a whole lot more!) So what is Site Build It!? Well...
Visit my FREE GUIDE to SBI! to discover how...