Home > Make Money using Google Adsense
Google Adsense
How to Make Money from Google Adsense and Your Web Site - A Free Guide...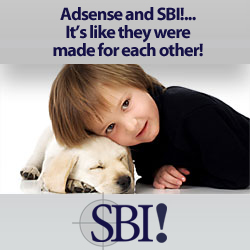 How to make money using Google Adsense? Read this free make money online article that's how, and learn how to build a web site that helps you make money from home.
No need to be into web site design, just create a website that people want to visit over and over again. Example adsense sites given.
Recommended reading for anyone interested in "adsense adwords google information marketing. :-)
How to make money from Google Adsense. Well you need a blog or a web site (like this one). It's best if your website is not hosted for free (just as it's not a good idea to build a web site clone) as the free web host usually wants to make money from Adsense, and would probably not want you to do the same. Plus, it's very, very difficult to promote a free site (on Geocities, for example).
So build your own website and plonk the Adsense code into it and watch then watch the money roll in. Er, no...
== Aside ==
Learn about using Google Adsense from Google itself in their Adsense Newbie Central
== Aside ==
"People Want Information Not Ads"
You need real people (not robots that promise you 10,000 hits for $25) to visit your site and the last thing they want to see on your website is ads - they're looking for information. So give them info., lots and lots of it. The better the info, the content or thoughts expressed, and the more original your words, the better your chances of people actually coming to your site in the first place. And the more likely it will be that they will keep coming back, again and again.
== Aside ==
What should you write about? Well, something you're interested in and something others are interested in too. Only you know what you're interested in but tools like Wordtracker and site building software like Site Build It can tell you what other people are interested in.
== Aside ==
What's great about this content-creation approach to building a website, as opposed to the make money from day one approach that everyone else tries, is that the content (words, pictures, videos, blog entries, reviews, comments etc.) will encourage people to want to look at ads - yes, they will want to look at ads!
(If the content is well-written of course - just think about those travel supplements in your weekend newspapers talking about beach holidays etc . Once you're appetite has been whetted, you can't wait to check out the ads at the back most times, can you?That's what your well-written content should be doing for you on your website. Create the content, and let your visitors want to click on the Adsense Ads.)
== Aside ==
How do you create good content? Well, you learn how - simple. Either learn from reading well-written content or from watching a great video on YouTube or learn by buying yourself a book on the subject. Luckily for you, the best resource to learn about writing content that presells (that's what the name of process is) is free, and it's called Make Your Content PREsell. I recommend you download Make Your Content PREsell, and devour it - your Adsense earnings will be boosted if you do.
== Aside ==
Example Adsense Sites...
As I said, that's what you must do with your website, that you build one page at a time - whet the appetite of your site visitors. This is known as preselling. Think of it as getting a recommendation from a friend about a job or a film or even a boyfriend or girlfriend. You trust your friend, and so you are more likely to trust his or her recommendation.
Your website has to be that trusted friend to your site visitors - simple as that.
That's why ads and banners are not things to concentrate on when you first create your website. Build great content and thus build trust. :-)
So, to summarise, write compelling and helpful site content on your own website, not on a freebie site, and continue doing so. Add the adsense ads after - once you have sufficient visitors.
Here are some example adsense sites that do just that...
That's it.
If you want to know about the best adsense ad sizes, ad colors etc then the best way to find out is to set up channels and to test. But you can learn a lot about Adsense from this Adsense Guide
Thank you.
Steve M Nash
MORE TIPS, ARTICLES & RESOURCES:
PS Want to know my top tip for succeeding online?
SBI! (Site Buildt It!) is an all-in-one internet business-building software service that allows people from all walks of life, and with all kinds of skills and desires, to succeed online. How? Well, SBI provides you with the tools to build your site (whether complete beginner or web expert) and a long-term site-building philosophy (see how SBI! works here!) that enables you to create successful content-based websites that both the search engines and your site visitors like. All you have to do is provide your Brain, Attitude and Motivation (or BAM, for short). Simple really, and do-able...
Check out my free guide to SBI! here...