Make Money Home
Google Adsense
My #1 Tip is SBI!
More Tips & Advice
Recommended
About Us

Create an Online Business?
There is another way! Yes, you can build a REAL business you're proud of, starting today. How?...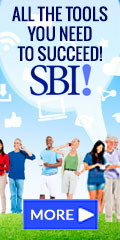 Use SiteSell's SBI!
In SBI! there are no downlines or uplines, just a step-by-step proven guide to building a web site that works. You choose what the website is about. And you determine your success!
Learn more in my
free guide to SBI!
Home > Show Me More! > Build Minisites
Build Affiliate Minisites - Show Me More!
How to Build Minisites
(Covers the following topics
So what is a minisite?
Well, it's usually a 1- or 2-page site whose main aim is to make the sale (or get the click, or get the newsletter sign-up, or... whatever it is you want to achieve). Simple as that. Some might say that minisites do not get repeat visitors, whilst others might say that you do not want a repeat visit - you want a sale!
This is what Phil Wiley of Minisite Profits says:
"Everything on a minisite page should be focused around the idea of getting the visitor to take that action. Everything. There should be no distractions allowed in the design of the page.

Let's be clear on what that means...

* No Flash or other plug-ins needed.
* No heavy graphics.
* No links to anything but the order form.
* No editorial, unless your desired action relates to the topic of the editorial, and then only if it's absolutely necessary.
* No "filler" content.
* No gimmicks of any kind.

In short, there should be nothing for the visitor to do but take the desired action or go to another site"
(Actually, I took the above from Phil Wiley's highly regarded newsletter - All The Secrets. The newsletter's full of original content - with lots of hype-free affiliate program advice and plenty of tips and profit building ideas. Why not subscribe? It is free, after all!)
By way of example, I'll let Marlon Sanders, author of The Amazing Formula and famous minisite advocate, explain in this advertorial for his minisite product Gimme My Money Now!
(Yes! I am being lazy, but maybe that's the whole point...!)
Actually, before I let Marlon blind you with his science! I will just say that 1- or 2- page minisites might not work anymore, in terms of getting free traffic from the search engines, anyway. I build several-page minisites now!
Exactly how to create products fast,
and roll them out successfully
via simple two-page web sites.
If you'd like to make more money on the Internet, then listen up.

Marlon Sanders has created an entire system creating and rolling out products via simple two-page web sites. He has rolled out a number of products successfully in almost "cookie cutter" fashion.

He has this thing down to a virtual science. He has cut out every single ounce of fat, tested it, perfected it.

Here is what you'll learn:
How to set up autoresponders that confirm orders automatically and follow up with your customers.


Why you don't need to pay 50 bucks a month for a merchant software lease. Several reputable merchant accounts you can set up for around $300 upfront, and a 10 buck a month statement fee. Save literally hundreds or thousands in annual fees.


An actual example of product testing method that tells you which one of your ideas is the likely winner.


Why you should never, ever, market a product before doing product testing.


Instructions on the only marketing method you need to start with. You can screw around with search engines, FFA's and all that other stuff. But if you want serious traffic FAST, without spending money on advertising, this is the way to go.


Step-by-step system for writing your Killer Sales Letter, including actual template wording you can use in your own sales letters.
PS Want to know my top tip for succeeding online?
SBI! (Site Buildt It!) is an all-in-one internet business-building software service that allows people from all walks of life, and with all kinds of skills and desires, to succeed online. How? Well, SBI provides you with the tools to build your site (whether complete beginner or web expert) and a long-term site-building philosophy (see how SBI! works here!) that enables you to create successful content-based websites that both the search engines and your site visitors like. All you have to do is provide your Brain, Attitude and Motivation (or BAM, for short). Simple really, and do-able...
Check out my free guide to SBI! here...